Tinius Olsen Integral to Eco Friendly Aluminum Composite Panels Manufacturing
The leading manufacturer of aluminum composite panels in the Middle East, who are also delivering on their goal of achieving a sustainable business ecosystem, have been benefitting from the input of Tinius Olsen equipment and ongoing support.
RMK Industries supplies to more than 25 countries around the world. Their primary stronghold is the Middle Eastern, Asian and African markets and are trusted by internationally renown contractors, consultants and architects. They have undertaken projects with international corporations and governmental organizations such as Shangri-la Hotels, Coca-Cola, Emaar and the Roads and Transport Authority in Dubai.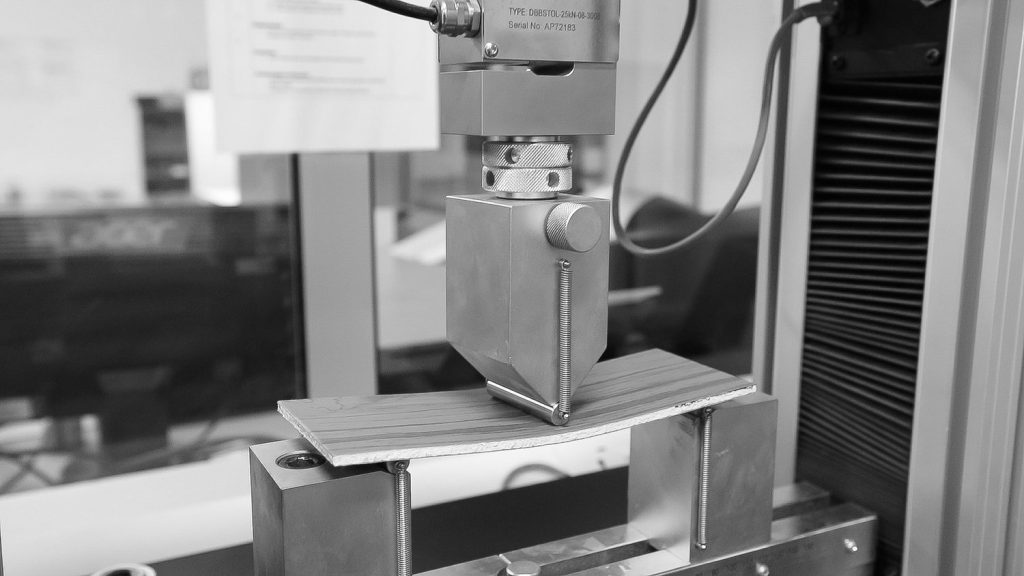 Fig. 1

Bend/Flex test setup on wood sample
"RMK Industries was established more than 40 years ago and was initially focused on the trading of architectural facade products. Over the years, we transitioned into the manufacturing of high-quality architectural products and are now proud to be one of the leading manufacturers of aluminum composite panels and pre-painted aluminum coils in the Middle East," said Quality Control Manager, Charmaine Timario
"Our aluminum composite panels are formulated using the finest raw materials and the latest technologies, resulting resulting in premium quality products that match or exceed industry benchmark standards, ensuring compliance with the most stringent international standards such as ASTM, NFPA , LEED by USGBC, EN and ISO."
Aluminum composite panels are lightweight cladding panels for use as external building facades and fascia to improve the aesthetic appeal and weather resistance of buildings. The flat panels consist of two thin aluminum sheets bonded to a modified mineral filled fire retardant core and when correctly specified, installed and officially certified to perform to code, regulations and fire safety laws, have several advantages including robust durability, light weight and high weather resistance as well as being cost effective, easy to install and low maintenance.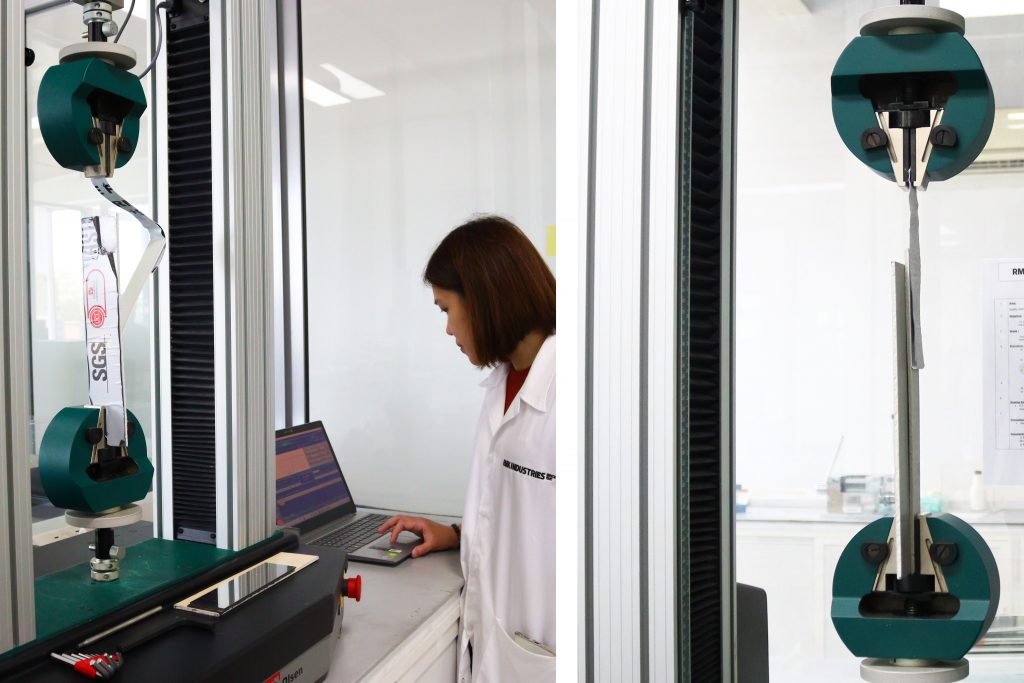 Fig. 2

Preparation of test with 25kN Universal Testing Machine with Wedge grips clamping on test sample.
"Across the entire product portfolio of RMK, we are invested in the quality of our products through continuous enhancement of our production processes, a strong focus on quality control and, especially, creating a green footprint though all our manufacturing processes," continued Charmaine.
"Achieving a sustainable ecosystem has been a core goal of ours since we got into manufacturing, and we have taken and continue to take, the necessary steps to achieve this goal. Our facilities are powered by renewable energy sources, such as solar panels and water reuse systems. We also promote the use of electric vehicles, having installed electric car charging stations in our facilities. We have adopted the use of sustainable methods throughout our manufacturing processes. We've done this by having a solvent recovery system in our innovatory coil coating line, ensuring the reuse of any wastage during production."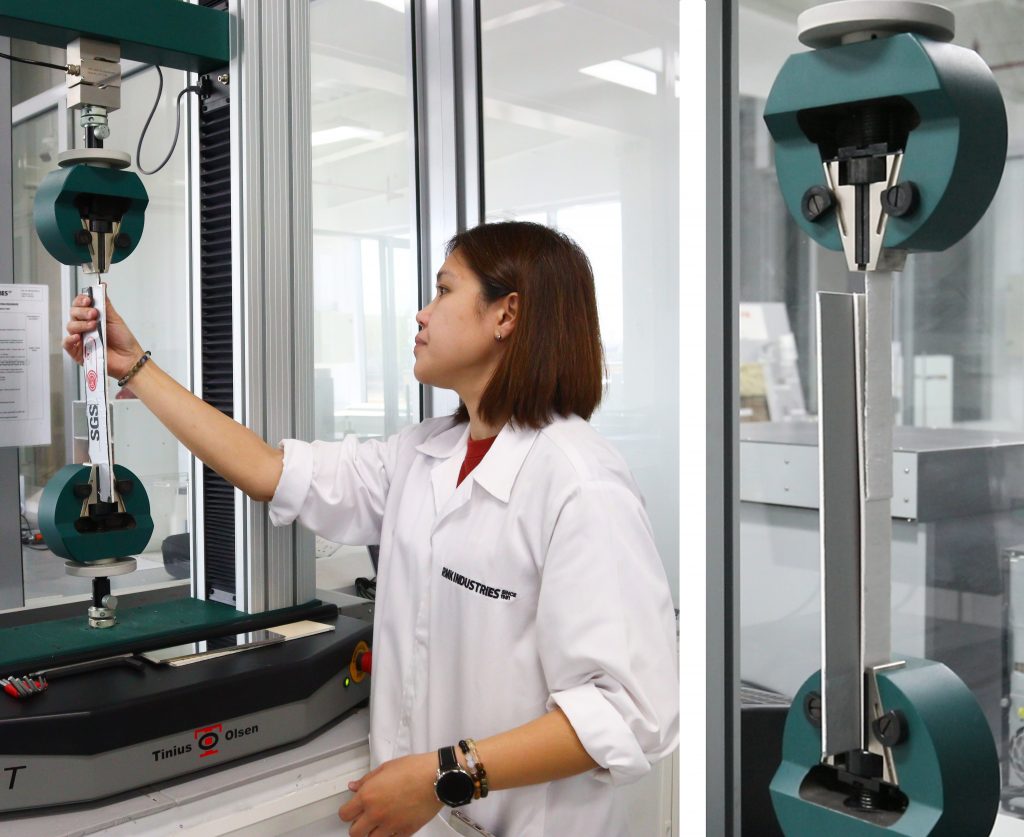 Fig. 3

180° peel strength test of adhesive material.
"Our aluminum coil coating line uses chrome-free chemicals and lead-free paints and we are one of the first companies in the region to be equipped with a Regenerative Thermal Oxidizer (RTO) that neutralizes 99%+ of air pollutants during the coil coating process, helping us minimize our environmental impact. Our products are 100% recyclable and are LEED-certified, contributing up to 30 points towards LEED projects."
"Our green initiatives will help us achieve a positive and far-reaching impact on our planet, with an estimated clean energy generation of more than 19,000 MWh and more than 8000 tonnes of carbon emissions that will be avoided."
With this and production in mind, the company ensures each product reaches all recognized international standards, with RMK operating their own in-house testing lab undertaking a wide range of tests through the entire manufacturing process.
"We conduct numerous mechanical property tests on our products using our Tinius Olsen 25ST, such as the 180 degrees peel strength test, drum peel strength, tensile strength, punch shear strength, bending strength and various others."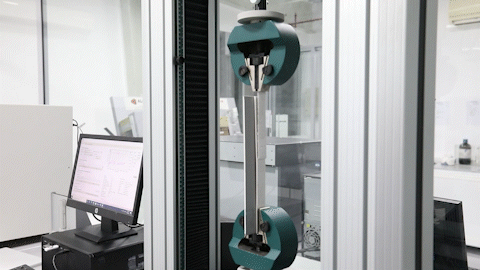 Fig. 4

180° peel strength testing in action.
"After a year of acquiring the 25ST, it has proved to be exceptional in meeting our material testing requirements. It helps us assure our products are delivered to the highest of standards."
"We chose Tinius Olsen equipment due to its history, reliability and ease of use in the field of material testing. With Tinius Olsen, we can ensure our products are meeting the highest quality standards, helping us deliver the best to our customers. We are also happy with the technical support team who visits us both off and on site from time to time."
Useful links